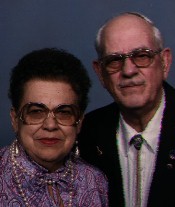 This picture is of my parents
James Arthur Coon (1921-1996)
Dorothy Marie Gierhart (1924-1994)

THEY WERE MARRIED MAY 5, 1946, IN LIMA OHIO.MY FATHER WORKED FOR NEON PRODUCTS FOR 36 YRS. AND FOR INRYCO FOR 10 YRS. MY MOTHER OWNED HER OWN BUSINESS. THEY WERE AVID CAMPERS AND ENJOYED THE OUTDOOR LIFE. THEY WERE MARRIED 47 YRS WHEN MY MOTHER PASSED AWAY.

A little about me
MY NAME IS CHRISTINA AND THIS IS MY FAMILY GENEALOGY PAGES.
I HAVE FIVE CHILDREN, EIGHT GRANDCHILDREN
AND TWO ROTTWEILLERS. MY PASSIONS ARE GENEAOLGY, ROTTIES AND RIDING WITH MY HUSBAND ON OUR HARLEY.. I'VE LIVED LIMA ALL MY LIFE EXCEPT ABOUT 4 YRS. IN ARIZONA AND 1 YR. IN VIRGINIA..



MY CHILDREN & GRANDCHILDREN
CLICK ON FLOWERS BELOW TO REACH THE CHILDRENS PAGES
THE OLDEST DAUGHTER IS ANGELA JO STALTER SHE MARRIED BRIAN BENNETT AND THEY HAD MYRANDA NICOLE.





THE SECOND OLDEST IS REBECCA STALTER AND SHE MARRIED EDWARD FOSBURGH AND THEY HAD VINCENT SCOTT.




THE THIRD OLDEST IS CARYN ROSE STALTER AND SHE MARRIED DAVID BOOTH AND THEY HAD SHAWN WALTER & DYLAN LEE.



THE FOURTH OLDEST IS DULIE MARIE STALTER AND SHE MARRIED CHARLES BRADFORD AND THEY HAD CHARLES JOHN, MATTHEW LOGAN, BRANDON JAMES, & HALEY MARIE.


THE FIFTH OLDEST IS BRYAN JAMES VICTORY AND HE IS NOT MARRED.



click the next button to go to my genealogy histories